Live Sessions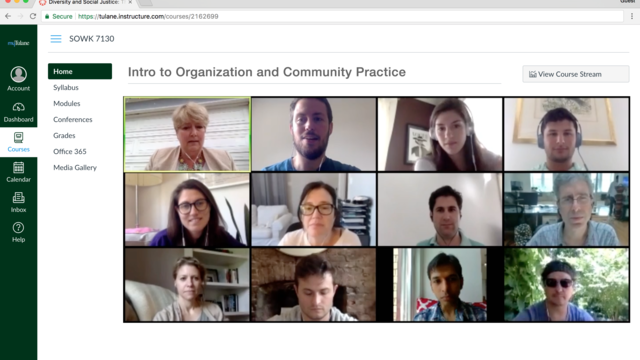 Tulane University's School of Social Work prepares students to do work that matters—to help others overcome their challenges and to build something new.
For over 100 years, Tulane University has led the way in educating and training aspiring social workers, helping our students to master the tools and techniques required to bring systemic change to communities in need. We aim to prepare our students to accomplish their professional goals, which is why we choose to keep our program small, ensuring that students are able to receive the time and attention they need to learn and advance their skill sets effectively.
The School of Social Work features a specialized learning management system that is designed to make the overall learning process an easy and efficient one for both students and faculty members alike.
The system acts as a centralized hub for course materials, lectures, and even activities. Through our interactive system, students can communicate directly with other students and instructors, and they can also manage critical information or resources, such as course syllabi, course materials, schedules, and grading requirements. Additionally, useful tools and apps such as Kaltura and Google Drive can also be integrated into the system, making it easier for students to save and share resources and information across multiple platforms.
Fully accredited by the Council of Social Work Education and ranked in the top 20 schools of social work in the country, Tulane School of Social Work offers a "clinical-community" curriculum based on relationship-centered practice. This course of study is designed to offer the best of class in clinical and community training that addresses the unique needs of individuals, families, groups, organizations, and communities.
Curriculum
Students in Tulane's online MSW program are plugged into a university that not only possesses a high-profile and prestigious reputation but is also actively shaping and participating in vital conversations about healing from disaster relief, what a culturally relevant social work practice looks like on the ground, restorative justice and fostering community resilience.
The program's curriculum is driven by a few central values:
Diversity: We believe that the diversity of the student population, of ideas and experiences represented in the curriculum, and of the field of social work itself is paramount.
Equality: As social workers, we are fighting to end systematic oppression and to empower and help underserved groups. In order to do this effectively, we must understand the legacies and systems we are up against, and this is a central focus of the curriculum.
Impact: We can't help communities change for the better unless we are well-versed in the clinically tested tools and techniques that allow us to do our jobs well.